Did Rihanna Unfollow Cardi B After Her NYFW Fight With Nicki Minaj?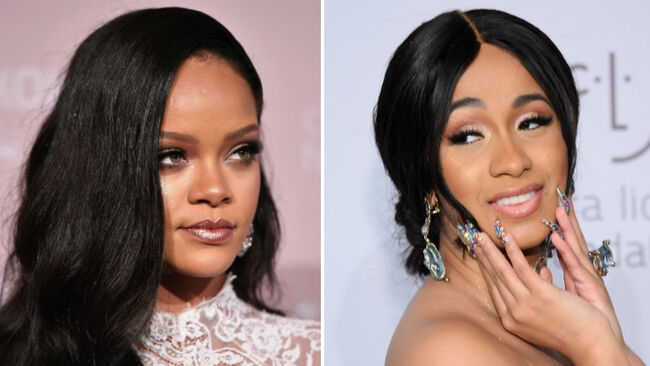 Don't believe the hype — Rihanna did not unfollow Cardi B after her New York Fashion Week altercation with Nicki Minaj. In fact, the "Wild Thoughts" singer was never even following the "Bodak Yellow" rapper to begin with.
Cardi took to her Instagram Live on Sunday (September 23) to address the rumor that RiRi took sides in her feud with Nicki. "A lot of people were doing rumors that a couple of celebrities unfollowed me and that was not even true. Those celebrities weren't even following me," Cardi said before sending a message to her haters. "Why can't y'all just stop making rumors to try and make me look like I'm over and everything? When my time is over, y'all will see when my time is over. My numbers will be going down, I'm not going to be on the charts, people will stop f**king with me... But God is saying it's not my time yet. Just relax, enjoy the show."
Speaking of people praying for her downfall, TMZ recently reported that Cardi is making even bigger money moves since her fight with the Queen rapper. Despite many claiming that Cardi's NYFW rumble would negatively impact her career, business has been booming for Miss Cardi B. A source told the site that none of her appearances have been canceled, no designers have pulled invitations that were sent pre-fight, and in truth, Cardi is continuing to live her best life.
It was also recently reported that Cardi is in talks to perform at Super Bowl LIII alongside Maroon 5 for the highly anticipated halftime show. Talk about turning lemons into lemonade!